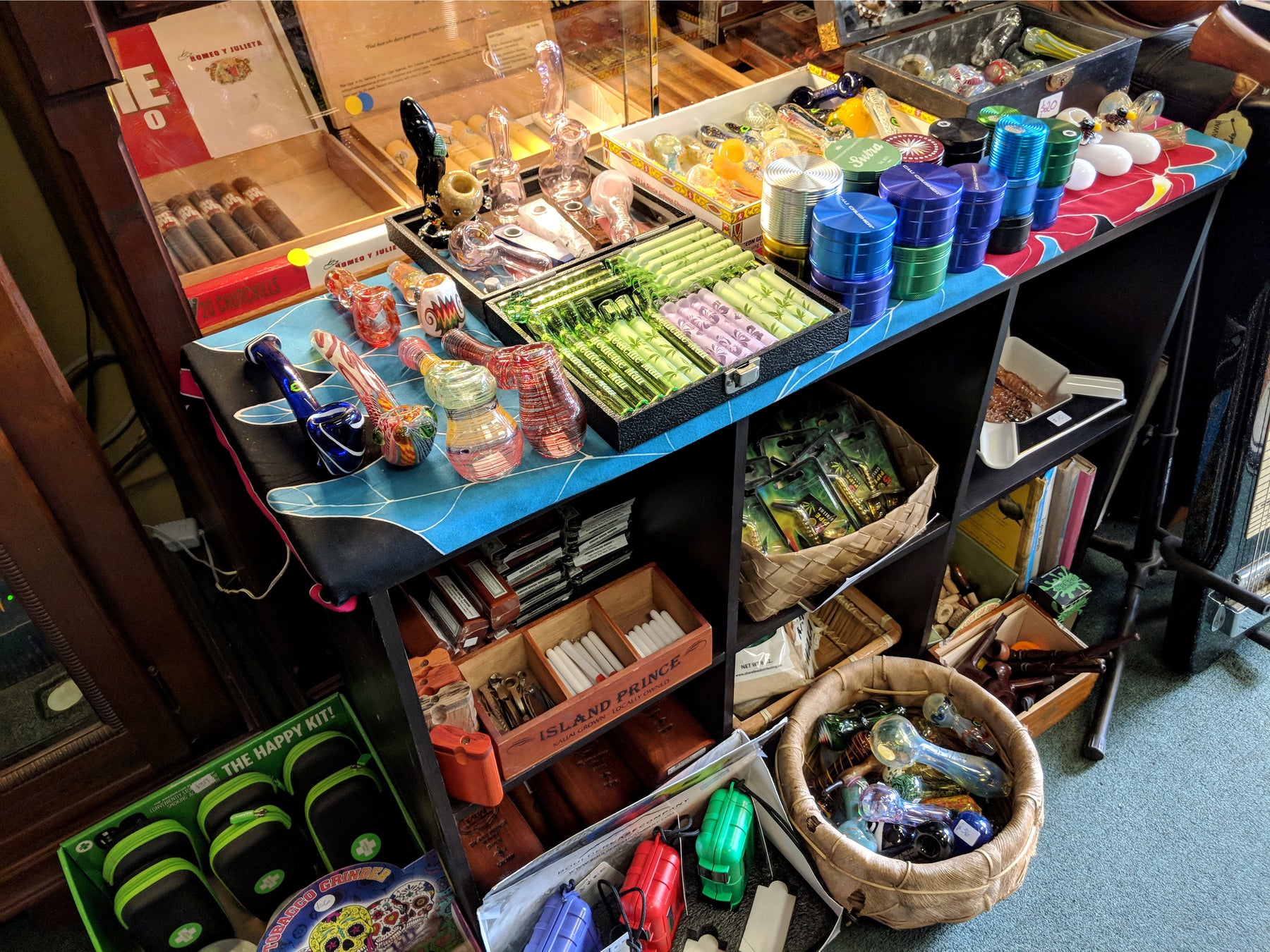 Top 10 Things to Keep Stocked in Your Headshop That are Always in Demand
What Smoke Shops Have in Common
Common sense will tell you that if you own a headshop, then there are certain supplies that you should always keep on hand for avid smokers to stock up on. While it's great to keep some fun and interesting stock on your shelves, nothing will bring in more customers than a headshop that has a reputation for keeping all the basics handy. 
More than ever before, customers expect to have their favorite (and necessary) smoking accessories and items in stock ready when they need them most. Today's customers are an impatient bunch, used to the digital age in which gratification is but a few mouse clicks away.
By keeping your physical and digital store shelves stocked with the items most likely to always be in demand, you can ensure you not only never miss a sale, but that your customers can count and rely on you to always have what they need.
But what should you keep in stock? After all, inventory is one of the costliest line items when it comes to operational expenses. The last thing you want to do is to be sitting on stale inventory sitting in a warehouse or backroom collecting dust.
The good news is that we've done the research for you, and after crunching the numbers we've come up with a shortlist of some of the most regularly in-demand products that you should always keep available in your headshop.
Headshop Items that are Consistently in Demand
Pre-Rolled Cones
Pre-rolled cones are great for avid smokers who are looking to have a quick smoking sesh without the hassle of rolling their own cones. They typically come in small packs of 20 and are ready to be filled with the individual's favorite herb. The optimally designed cone shape allows for the herb to perfectly burn when it is first lit and slows the pace of incineration as it is smoked down. Because of this design, smokers will enjoy the fact that their first drag tastes exactly the same as their last. Cones can be ordered in a variety of sizes and counts suitable for any need.
Rolling Papers
Rolling papers are a common staple to have on hand. Be sure to stock them in a variety of different styles and sizes so that you will satisfy the needs of a wide array of customers. Keeping track of inventory counts will assist you in determining which brands have the most appeal to your customers.
Grinders
Every smoker knows that grinders are an absolute must-have accessory. Why not keep it interesting for your customers and stock up on grinders that are made of different materials and that come in a variety of different shapes and sizes. After all, variety is the spice of life. So why not keep it interesting? Customers always love variety.
Rolling Trays
Rolling trays are another essential item that no smoker should be without. Rolling trays should be both durable as well as stylish while allowing users to cleanly roll anywhere — whether at home or on the go. No rolling kit is complete without rolling papers, a grinder, the perfect filler, and a rolling tray.
Joint Tubes
Joint tubes are the perfect way to keep joints fresh and handy. Not only should joint tubes be constructed of dispensary-grade material, but they should also have an airtight design that both locks in freshness and odor. Any joint tube that you stock your headshop with should be durable, discreet in size, and convenient for your customers to use. Having a fun array of colors and designs to choose from doesn't hurt either. Each tube perfectly accommodates 1 ¼" joint papers from any favorite brand. 
Cleaning Gear
While it's great to keep smoking supplies on hand, it's also important to stock your headshop with a wide array of cleaning gear. Great cleaning gear like alcohol wipes, cleaning solution spray, cotton swabs, and bristles are essential for keeping airflow and smoke quality in bongs, oil rigs and other hardware, top notch. Cleaning gear products help customers remove oil, resin, and grime off of their smoking pieces. 
Ashtrays
As simple and as necessary as they are, sometimes ashtrays can be one of the most forgotten about accessories. Regardless of whether you are at home or are on the go, having an ashtray on hand will make for a much more enjoyable smoking experience. When it comes to ashtrays, the more unique, the better. Along with more traditional designs, there are even ashtrays that are specially designed to hold papers and cones while simultaneously catching the ashes underneath. 
Glass Pipes
Glass pipes are a growing trend among smokers all across the United States. And with their unique designs, colors, and sizes, it's no wonder why glass pipes are fast becoming a staple of avid smokers. Glass pipes come as hand pipes, bubblers, spoon pipes, glass bowls, steamroller pipes, and much more. Not only are glass pipes a great way to smoke some favorite strains of weed, but they also make great statement pieces for a host of customers. 
Vaporizers
Since weed is being legalized across the United States, vaporizers are growing in popularity. Vaporizers offer smokers an improved smoking experience because they give smokers an increased potency out of their weed when compared to traditional smoking methods. There are many shapes and styles of vapes out there from desktop vapes, to pen vapes, and concentrate vapes. Once they explore the vaporizers on your shelves, customers will quickly see them as a smoking necessity. 
   Dabbing Tools
For customers who own dab rigs, dabbing tools are a major necessity. Dab tools range from torches, to dabbers, carb caps, dab mats and containers, and bangers and nails. In keeping an array of these products stocked on the shelves of your headshop, you will be satisfying yet another group of smokers. 
A Well-Rounded, Thoughtfully Stocked Headshop
As nice as it is to stock your headshop with fun and interesting smoking products and supplies, it's even more important to pay attention to your customers' needs. In keeping high-demand products on your shelves, you are not only guaranteeing a successful future for your headshop, but you are also gaining the trust and respect of your customers. 
These top ten high-demand products are a great place to start when it comes to providing your customers with products they will truly want and need.