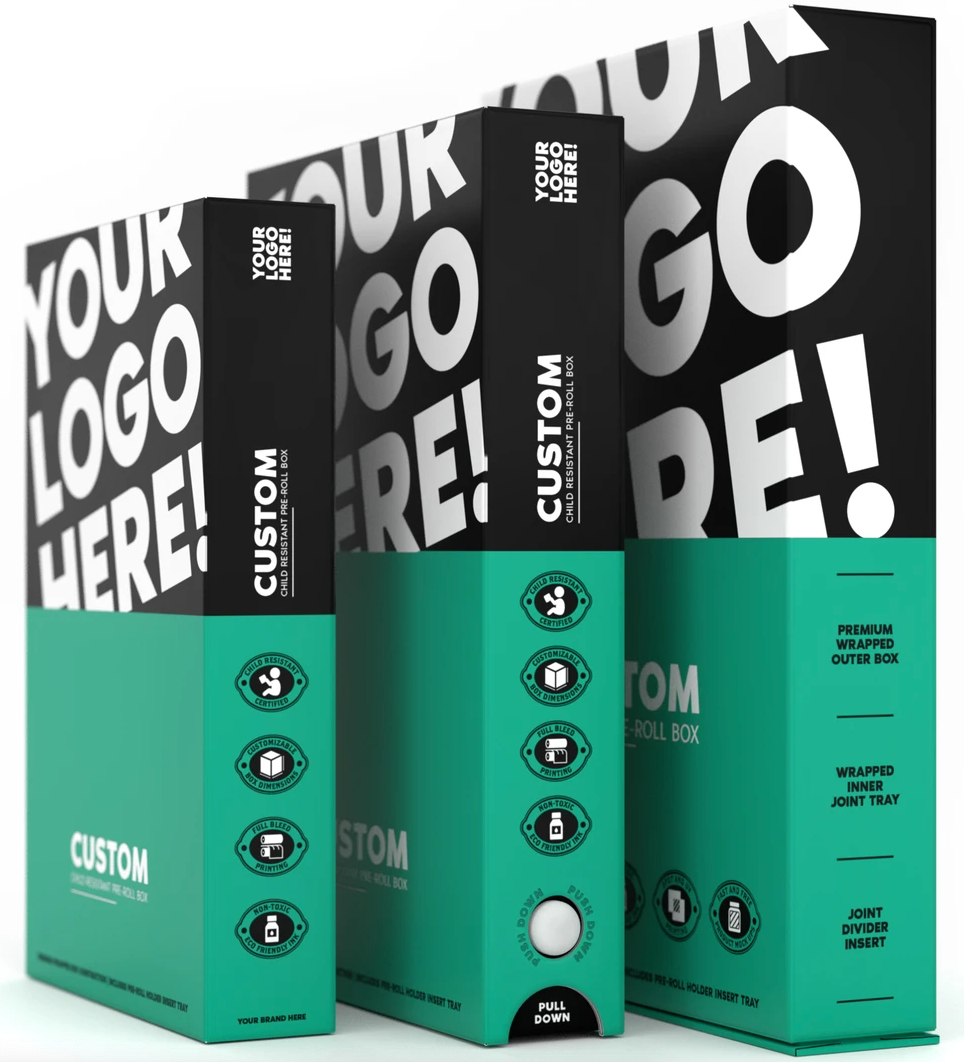 What is CR Pre-Roll Packaging?
Introduction to CR Pre-Roll Packaging
Each day, millions of people take a moment to take in the soothing, therapeutic benefits of cannabis and marijuana products. The average adult has no trouble discerning between cannabis and other items around the house.
Given the rising popularity and expanding legality of cannabis products, it is imperative that these items be kept in a way that encourages safety and regulatory compliance. 
Pre-roll packaging allows for the convenient transport of blunts, cones, joints, and spliffs, making pre-rolled cannabis products easier to enjoy wherever you are. 
There are many benefits to child-resistant pre-roll packaging. Here we will discuss what the packaging is, who might benefit and answer a few questions about the packaging. 
What is CR Packaging?
Generally speaking, every product that hits any form of retail shelf is required to go through some form of testing for safety. Some products face greater restrictions than others, for obvious reasons.
The World Health Organization (WHO) attributes acute poisoning as the third-leading cause of death in children under age 15 around the world. Unfortunately, most of these poisonings occur in or around the home. From laundry detergent to prescription medications, there are plenty of seemingly innocuous items in every household that can become deadly if procured by the wrong hands.
In middle to high-income countries, the WHO attributes medicinal drug poisoning as the leading cause of non-fatal poisoning. The positive news is it is possible to avoid these dangerous scenarios.
Child-resistant (CR) packaging can effectively and significantly reduce the risk of the aforementioned poisonings. You have likely encountered a variety of CR packaging, from the push and twist caps to push and pull buttons.
How does this relate to pre-rolled packaging? CR pre-roll packaging can mitigate the inherent risks of a child inadvertently ingesting cannabis. 
The Poison Prevention Packaging Act (PPPA) dictates that child-resistant packaging be constructed in a way that makes potentially toxic contents "significantly difficult" for children five and under to open and/or obtain. It also allows that the packaging should not be too challenging for adults to open (so as not to discourage the use of appropriate safe packaging).
Child-resistant packaging should be tested with a subject group of 100 (under five years of age.) 85 of those 100 subjects should not gain access to the contents of the packaging for the CR pre-roll packaging to be considered a success. Further, after a demonstration of how to open the special packaging, 80 of the original 100 should still be unable to open the package.
It is important to note that CR packaging is not only about challenging access. Cannabis has a notable odor that indeed repulses some while enticing the curiosity of others. Some CR packaging is designed to seal odors to avoid attracting little noses. 
Child-resistant packaging is statistically proven to prevent accidental ingestion of marijuana products, limiting cases of inadvertent poisonings. It is possible to use the regulations and best practices of CR packaging to your advantage.
Who is CR Packaging Great For?
Pre-rolled offerings are the lifeblood of cannabis retailers everywhere. They allow for better variety, shopping experience, and cost margins for producers. \
Nowadays, customers cannot simply box up a selection of pre-rolls in a standard package. CR packaging is regulated by ASTM International (previously called the American Society for Testing and Materials) and requires standards to be met before approving packaging for retail use.
This all sounds very clinical and possibly concerns some retailers who might worry about the customer experience. CR packaging is available in designs that are both compliant and aesthetically pleasing.
Personalize Your CR Packaging for Marketing Impact
Customized CR packaging provides an opportunity for retailers to enhance their brand while keeping their customers safe. 
CR pre-roll packaging and containers can be customized from a marketing standpoint and allow for design options like:
Product fitting

Color

Material

Shape

Size

Embossing

Lid type

Printing

Container inserts
Customized joint tins are a great way to put CR packaging in front of cannabis customers without sacrificing the classic look. Reaching for a pre-rolled joint can be one of life's greatest pleasures, but keeping joints secure is paramount. Customization allows for branding and creating an aesthetic that matches the taste of your clientele.
Pre-rolled marijuana products offer the utmost convenience. Offering CR pre-rolled tins and tubes keeps cannabis products dry, fresh, and of appropriate strength. These items are ideal for retailers who value the opinion and safety of their customers.
Pros and Cons of CR Pre-roll Packaging
There are obvious benefits of using high-quality, attractive CR pre-roll packaging for your cannabis products. Safety and regulatory compliance alone are enough for most retailers, but there are other reasons to introduce CR pre-roll packaging.
There are pros and cons when it comes to the variety of CR pre-roll packaging available. 
CR Pre-roll Packaging Pros
While considered safe, the packaging is still easy to open for adults. Outside of unique circumstances, opening a CR pre-roll packaging item is simple.
The packaging is still cost-effective and easily obtained. Many retailers grow concerned that CR pre-roll packaging will negatively impact their bottom line.
CR pre-roll packaging guarantees freshness when compared to standard display storage.
CR pre-roll packaging allows safe, secure storage of cannabis products while limiting the escape of odors for privacy and enhanced safety.
CR pre-roll packaging offers a unique opportunity to brand pre-rolled products and stand out as a retailer.
CR Pre-roll Packaging Cons
Retailers must review the quality of construction and aesthetics before placing large orders for CR pre-roll packaging.
Many CR pre-roll packaging options are single-use plastic, which can be of concern for environmentally conscious retailers.
In Closing
Pre-roll packaging has entered a new age of balancing marketing, safety, and security concerns. Technologies have improved recently, offering retailers and producers innumerable options for design and mechanics.
Standards and regulations play a significant role in CR pre-roll packaging design, but the introduction of customization has made pre-rolled cannabis products far more attainable and attractive to consumers.
New designs will continue to be introduced to the market, making it possible for retailers and producers to stay on the cutting-edge cannabis sales while maintaining the highest safety standards.
Hara Supply specializes in all CR Pre-roll packaging needs for all businesses and dispensaries. Contact us today for a free quote.