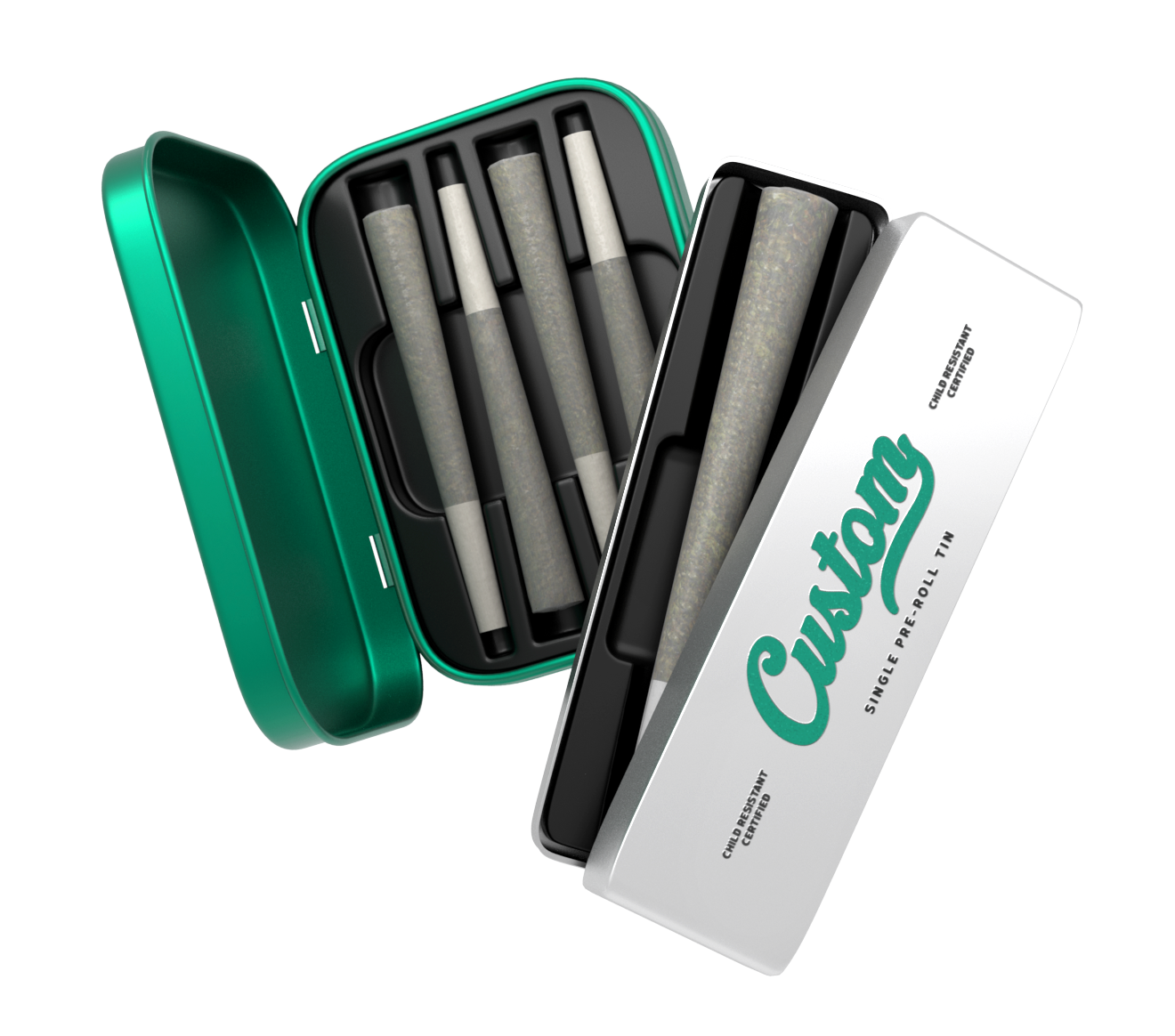 Pre-Roll Packaging Options
HARA Supply's Pre-Roll Packaging Options
HARA Supply produces some of the highest-quality pre-roll packaging on the market today, with the first ISO, GMP and Health Canada approved manufacturing facilities in the industry.  You can rest assured that our products are compliant and offered in a number of options to help your brand succeed. We're pros when it comes to packaging quality, affordability, and branding. 
Ordering your dispensary's marijuana packaging can sometimes be overwhelming; there are so many options to choose from! You may be asking yourself:  What do my state laws require? What sizes and options do I need? What do my customers really need from their packaging?  HARA Supply can help you make the right choice for your business, also taking into account your needs for durability, product protection, and marketing.  We are here to help you make the right choice.
Pre-Roll Joint and Blunt Tubes
Pre-roll tubes are containers designed in a cylindrical shape and made to preserve and protect pre-rolls.  Think about a cigar tube; these products are very similar in appearance.  Sometimes referred to as "pop-top" tubes due to the way some open when squeezed, these tubes are easily carried and discreet.
The demand for pre-rolled joint and blunt tubes are on the rise, which makes container and tube quality very important. Perhaps the most traditional method of cannabis consumption, tubes to hold joints will never go out of style. You and your customers need to be able to count on the safety and quality of your pre-roll tubes and packaging. 
HARA's pre-roll joint and blunt tubes offer convenience and safety, including child-resistant packaging options.  Pre-roll tubes can be offered in food-safe plastic, shatter-proof glass, or metal to provide a safe way for you and your customers to transport cannabis products on the go without fear of damage or loss of quality. 
Our pre-roll tubes can be used to hold joints, blunts, and pre-rolled cones, all providing superior protection, portability, and freshness.  By using a quality pre-roll tube, you can prevent oxidation or moisture ruining your cannabis.  These tubes also prevent the transfer of unwanted odors.
Pre-roll tubes are available in a variety of sizes, from small to large and everything in between. They are available for bulk purchases and are often one of the most economical packaging options for your business and customers on the go.
Pre-Roll Boxes
If your business is looking to expand beyond individual pre-rolls, boxed sets may be your next step.  Our pre-roll boxes can be manufactured to meet your aesthetic and marketing needs in addition to assuring the quality and safe storage of your cannabis.
Just like any other consumer product, your pre-roll box style and design can make a real difference in customer buying decisions. Cutting corners with low-quality boxes may send the wrong message regarding the quality of your product or business. Let HARA Supply find the product that sends the right message about your dispensary.
Empty Pre-Roll Boxes: 

Tailored to meet your unique specifications, empty pre-roll boxes can be ordered in bulk or as-needed, easily accommodating varying demand and providing a ready-to-go solution for pre-rolled joints.

Pre-Roll Slider Box: 

Ideal for high-grade joints, slider boxes provide an interactive experience with the box, sliding to reveal its contents. Available in a wide range of styles and materials, slider boxes are a customer favorite, keeping their joints safe, secure, and ready at a moment's notice.

Pre-Roll Display Box: 

Pre-roll display boxes are necessary for countertop and shelf displays. Eye-catching designs, unique layouts, and messaging tailored to generate sales are key aspects of the right display box for your brands.

Custom Joint Roll Packaging: 

pre-rolls come in all sorts of unique sizes and designs.  Custom joint roll packaging can be tailored to meet the unique needs of any joint roll, from individual joints to bulk sales.
Learn More: Rolling Paper vs. Pre-Roll Cones
Retail Packaging 
In addition to blank packaging options, HARA Supply offers custom branding for all of our products, including pre-roll tubes, boxes, displays, and cones.
Pre-roll tubes, although available in standard sizes, can be customized in several ways to suit the needs of brands and dispensaries.   Customization options include:
Tube color

Custom stickers

Direct printing of graphics on the tube

Branded and custom-designed shrink wrap around the tube 
We also offer custom push boxes, which are ideal for those that are looking to make pre-roll multi-packs in sturdy, durable, eco-friendly packaging. You can completely customize the printing on the push pack to reflect your branding; this includes custom printing on the sliders.  The capacity of the standard styles ranges from five to seven pre-rolls, but we can alter the dimensions to suit all of your needs. You can also add-on premium customization options, including embossing, UV coating, foiling, and custom rubber slider colors.
ISO and GMP Approved Pre-Roll Cones
Our premium pre-roll cones are ISO, GMP, and Health Canada approved. We are proud to offer custom cones as well as basic white and natural brown papers to our cones.  Custom cone filters can be designed to match custom boxes and pre-roll tins to further enhance your brand's image.
Our cone's filter tips come in a range of sizes and styles perfect for fast, easy, and efficient rolling. Perfectly constructed from the finest materials and designed for optimal airflow, you'll want to stock up, so you never run out.
What to Know About Pre-Roll Packaging
No matter what pre-roll packaging option is right for you and your business, it's important to keep in mind two key factors, quality, and safety for your customers. It's important to protect your customers' investment by providing high-quality boxes and tubes to prevent oxidization, moisture, and odor transfer to their cannabis. Additionally, you want to be sure to protect the product from misuse or damage by offering child protective caps and packaging. Such requirements may also be required by your local government regulations. Learn more about CR Pre-Roll Packaging.
At HARA Supply, we know that our success starts with the success of our customers. This is why we make our cones from the finest rolling papers and our packing options from the highest quality materials. Contact us today for all of your pre-roll packaging needs.