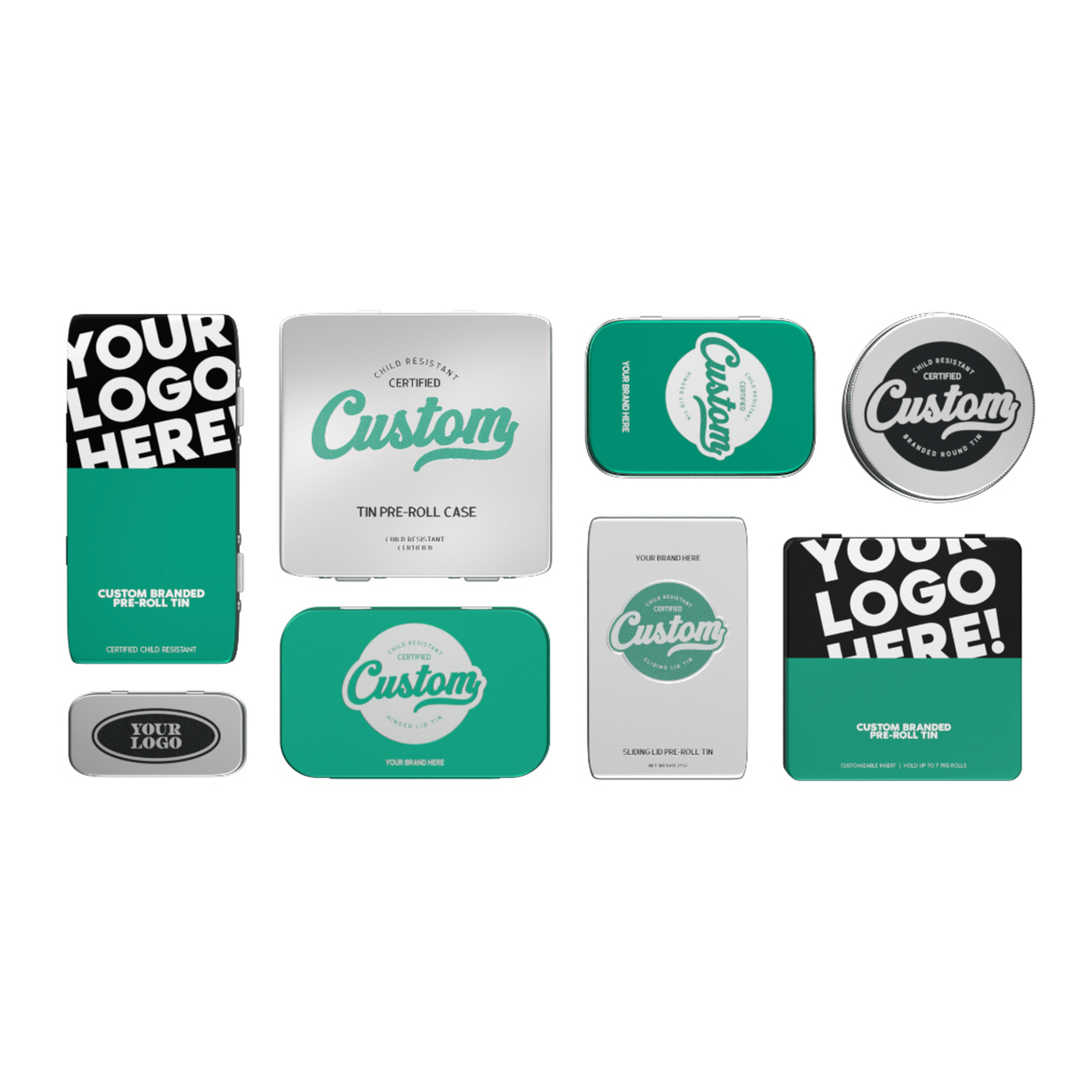 Pre-Roll Packaging – A Look At The Rise in Popularity
The concept of pre-rolling has been around for centuries, dating as far back as the first cigars and cigarettes smoked in the 1500s. Now, pre-rolls are one of the most common ways to smoke. Pre-rolls make smoking easier, cleaner and faster than traditional at-home rolling, which has created a whole new industry in pre-roll packaging for companies like us at Hara Supply. 
We are a Canadian-based company that operates some of the highest-quality pre-roll packaging in the world. We are both ISO and GMP certified, which is only earned through lengthy testing and qualifications ensuring a safe, high quality product. Our dedication to our customers ensures that you have the best experience with our products, and we make sure of it through rigorous quality control. Learn more about the quality of pre-roll tube packaging.
As this industry continues to grow, we want to make sure our customers understand our process and know exactly what to expect from our pre-roll packaging. We believe that our customers deserve complete transparency about our products because without you, we would not be successful. That being said, we want to help guide you through pre-roll packaging so you know what to expect.
The Rise in Pre-Roll Packaging Popularity
As the demand for pre-rolls increase along with the increase in legalizing marijuana, the pre-roll packaging industry continues to grow rapidly. Consumers want more than just ease of access; they also want quality and a wide range of options.
Pre-roll packaging has grown from a few plastic options to hundreds of different materials, shapes and sizes. Consumers love the option to customize their pre-roll packaging and get the right size and shape that suit their needs. Plastic used to be the popular choice in pre-roll packaging, but as environmental awareness increased, more people started looking for eco-friendly options like custom rolling paper and glass. 
Aside from the different size and material choices, another huge focus on pre-roll packaging is the design and look of the packaging. Hara Supply produces custom pre-roll packaging as well as pre-rolled cones with several different pre-roll packaging options, shape, lengths, color choices and more such as pre-rolled tin boxes. This has become a huge opportunity for suppliers like us to include branding on our pre-roll packaging, allowing us to better market our product as well as allowing customers to have more control over the product they are using!
What to Know about Pre-Roll Packaging
First, there are definitely some legal considerations to keep in mind with pre-roll packaging. Different countries and states, providences, etc. vary in what they require, but some of the newer laws include child-proof packaging or packaging that is see-through, for example. While these requirements certainly are not unprecedented, they can definitely make the process a bit more complicated for suppliers. However, our commitment to setting high standards in the industry allow us to provide products that are in complete compliance. 
Ingredients and additives are also something to pay attention to in pre-roll packaging. For example, Hara Supply's packaging is vegan, gluten free, pesticide free, heavy metal free and officially Health Canada Approved. Safety is a huge concern with these products, so these high quality papers and packaging are crucial!
Pre-roll packaging also comes in many different forms. There are tins, blunt tubes, cones and many more. Our GMA and ISO certified pre-roll cones are some of our most popular products that we offer. They make the rolling process incredibly fast and easy, and come in different lengths and sizes depending on what you are looking for.
As we mentioned above, our pre-roll packaging is both GMA and ISO certified. This is an important certification to look for in pre-roll packaging because it ensures quality and safety. But why are ISO and GMP so important, and what do they mean? 
What does ISO and GMP Mean? 
Good Manufacturing Practice (GMP) is in place to ensure that a certain quality standard is met in product control and production. This minimizes risks involved in the production of pharmaceutical products that can't be eliminated through testing the final product. 
The GMP system was put in place to eliminate contamination, mislabeling products, insufficient active ingredients, and several other serious risks. This not only helps protect the health of the consumer, but also is a better investment for the company producing the product. 
Some of the common GMP qualifications include having a clean, hygienic manufacturing area, complete control over cross contamination, clearly defined manufacturing processes, full records of manufacturing and several more. Everything from the employees working in the manufacturing area to the equipment itself is organized under a policy that requires strict training, regular maintenance and inspection. 
The International Organization for Standardization (ISO) is another difficult certification for a company to hold. ISO facilitates and supports specific standards of quality relating to customer satisfaction as well as production. By having this certification, the company demonstrates their ability to meet the expectation of their customers both through their service and their products.
To meet the qualifications necessary for ISO certification, the company must have a thorough quality manual, policy, objectives and records. Detailed plans for corrective action and preventative action as well as control of documents, records, internal audits and nonconforming product are also required.
So what does all of that mean? GMP and ISO qualifications are not easy to acquire and include extremely strict guidelines. Hara Supply's qualifications for both GMP and ISO puts them in the lead in the pre-roll packaging industry. These certifications prove that our company can produce high quality products while meeting and exceeding our customers' expectations.
What are the Benefits of Pre-Roll Packaging?
There are several benefits to using pre-roll packaging. Most of them are solely for convenience for the smoker, but a few of them actually concern safety as well. While these benefits are also typically geared directly towards the user, there are also benefits for the people around you as well. Here are some of our most common benefits to pre-roll packaging:
Child proofing. This can be a huge benefit for parents or for people who have friends with children. Children should never have access to smoke-able products, so pre-rolls help keep them from discovering your herbs. It can be hard to control a kid's curiosity, but pre-rolls generally make it harder for them to access. This is why we have many CR pre-roll packaging options as well.

Lasting Freshness. By keeping your joint in a pre-roll packaging product, you are helping to keep your product fresh. Leaving it out in the open can cause it to dry out, get wet or a number of other issues that diminish the quality of the herbs. Pre-roll packaging eliminates that risk.

Discretion. Some people would rather not have their herbs on display for the whole world to see. Pre-roll packaging makes it much easier to transport and store your product to give you some peace of mind. 

Personal preference. Depending on your smoking preferences, you might want to roll a few joints at once and save them for later. You might just want one, or you might want to save a joint that you haven't finished yet. Pre-rolled packaging gives you plenty of options. Hara Supply has pre-rolled packaging of all different shapes, sizes and lengths, such as the pre-rolled cones, pre-rolled blunt tubes, tins and more.

Controlling the smell. Many people like the way their herbs smell, but that doesn't mean they want to smell it constantly. Pre-rolled packaging helps to control the smell so you only notice it when you want to.
Learn More: Rolling Paper vs. Pre-Rolled Cones
There are many other benefits to pre-rolled packaging, it all just depends on what the consumer is looking for. With a wide variety of choices, Hara Supply meets the needs of consumers everywhere.
Conclusion
The growth of pre-rolled packaging is not slowing down any time soon. Many countries are changing their legalization laws concerning marijuana, and the medical field continues to advance their research in the benefits of smoking. As the industry grows, Hara Supply continues to monitor consumer needs so we can adapt our products to meet your expectations. 
If you want to learn more about our products, visit HassaSupply.com. We are also happy to assist you with any custom orders you are interested in!