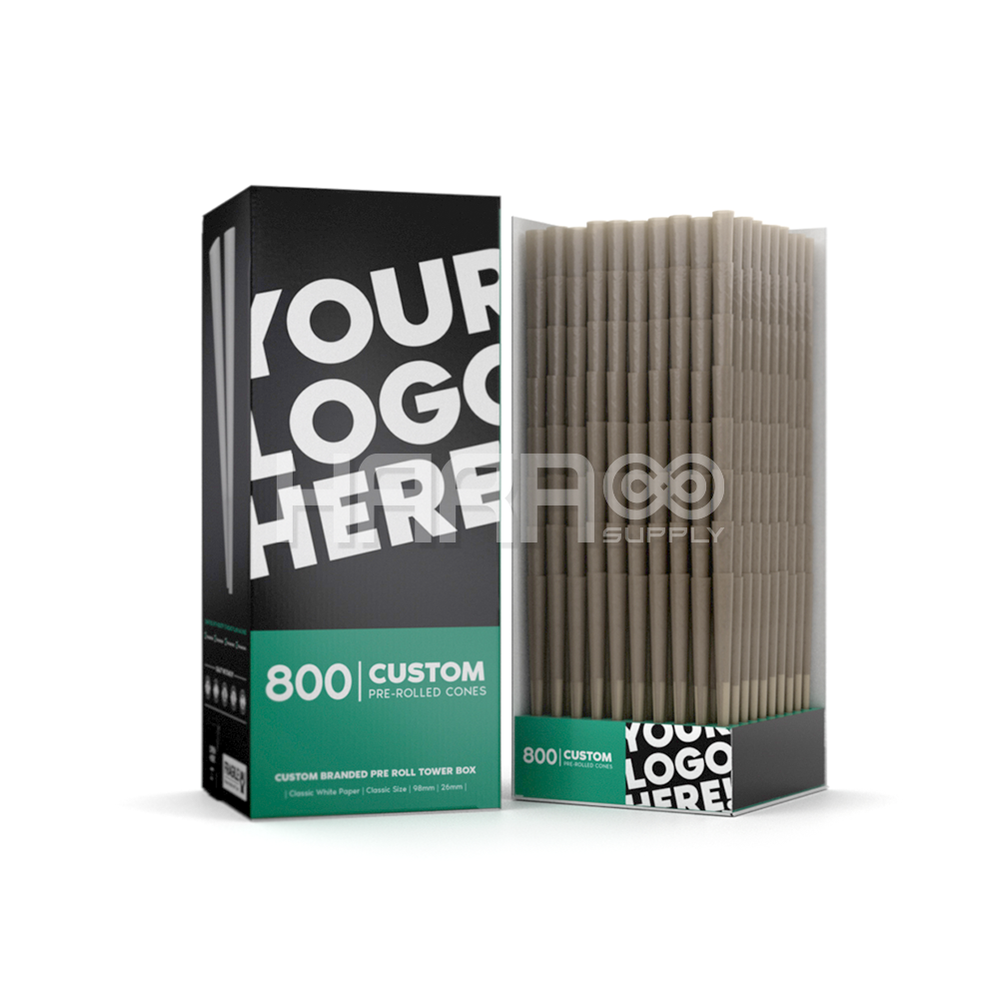 Pre-Rolled Tube Labels
Types of Labels for Pre-Rolled Tubes
To keep your pre-rolled product fresh while discreetly and safely transporting it, you need proper packaging. But what available packaging methods exist for pre-rolls? 
The industry calls the most popular transport method a "doob tube," a closed container that maintains your product's freshness and safety while transporting it. While these tubes keep your product just the way you need it, each pre-rolled tube needs a label. 
Read on and discover the different types of labels for pre-rolled tubes. 
Types of Pre-Rolled Tube Labels
Whether you choose to go the quality packaging route with a clear glass tube and cork top or keep it simple with a cost-effective, plastic pre-rolled tube, make sure to choose a C-R (child-resistant) option. 
While you consider your product's packaging, you must also consider your state's packaging mandates and guidelines when it comes to labeling. Customers want to have all the information they need about the company of whose pre-rolls they plan to purchase, and an attractive, appealing label will provide just that. 
A doob tube with a plain label will not suffice; your competitor who has the more pleasant-looking pre-rolled packaging will get the sale if you do not entice your prospective customer with alluring, enticing packaging, and that includes a label.
You have many different types of labels to choose from, including vinyl, paper, foil, and BOPP (biaxially oriented polypropylene). 
With the latest digital print technology, label print experts can print your labels with incorporated raised foil and varnish on your printed pieces, thereby making your labels with a texture you can feel. 
While vinyl, paper, and foil labels are relatively self-explanatory, BOPP labels need a bit more of an informative explanation. 
BOPP Labels
While highly recommended above all the rest due to their ability to do their mission perfectly—stick and hold on—their most notable characteristic lies in their variable transparency, giving them the capability to look like glass, paper, and even metal. BOPP labels also have a clean material to print on. Food and hygiene companies rely on their low toxicity material, durability, and resistance to solvents, acids, and oils, for their products. 
Pre-Rolled Packaging Labels to Avoid
While vinyl, paper, foil, and BOPP labels will offer you the most effective packaging solutions, you need to avoid some others. 
Known to not hold up very well and easily peel off smaller, thinner doob tubes, consider Avery white film labels with caution. As you get what you pay for, the industry recommends not going the cheapest route as you will end up spending more to re-label your defective pre-rolled packages than if you had just purchased solid, quality labels from the start. 
Things about Pre-Rolled Packaging Labels to Consider
First, ensure that the design of your chosen labels comes equipped to adhere to circular packages as labels that stick well to a flat surface will not necessarily adhere properly to a tight, narrow doob tube. 
Second, what label size do you need? To showcase your product in a clear tube, consider the size of the label compared to the pre-roll container's size. Leave an inch of space open to see the pre-roll through the tube, as well as to leave any needed space for the barcode. In the event you want to cover the entirety of the product, get a solid colored container, or print a large label to cover the entire tube. 
Learn more: New Age Pre Roll Packaging
If you require a large number of labels, consider printing on sheets instead of roll labels for added shine.
Label Application
Label application follows choosing and designing it. You can choose from an array of label application options: manual application, semi-automatic application, or fully automatic application. Automation may have the most effective delivery as you scale your business and sell more pre-rolls.  
By ordering one or more labeling machines, you can efficiently automate and execute your labeling process. 
Cleaning the tubes will make a huge difference, despite the kind of label or printer you use. By blowing off your tubes with compressed air (especially if you store your pre-rolled tubes near the production facility), you will remove any flower dust that gets on the tubes, thereby helping the labels to adhere properly. You guarantee your labels will not peel by quickly wiping down the tubes with isopropyl alcohol. 
Label Design
Your pre-roll tube designs should match your branding. Expert print designers familiar with labeling technology can help create packaging that draws in a customer's attention, whether via embellishments, color, or both. 
Branding
What is branding? 
Branding is how your company is perceived. 
When someone—anyone—encounters anything having to do with your company and reacts to it defines your brand. 
Branding means so much more than your logo and tagline. While those things help to build your brand, the emotions people feel because of it are what defines it. 
Remember the importance of customizing your labels in such a way that you get the reactions you want out of people when they encounter it. Everything from your product's container to the label's design, size, and material may help make or break your brand. 
So, if you need any assistance with your product's branding, our in-house product development and design team, an industry leader in customer service, can assist you. Contact us and find out how our critically acclaimed custom packaging and first GMP and ISO certified factories can meet your needs today!