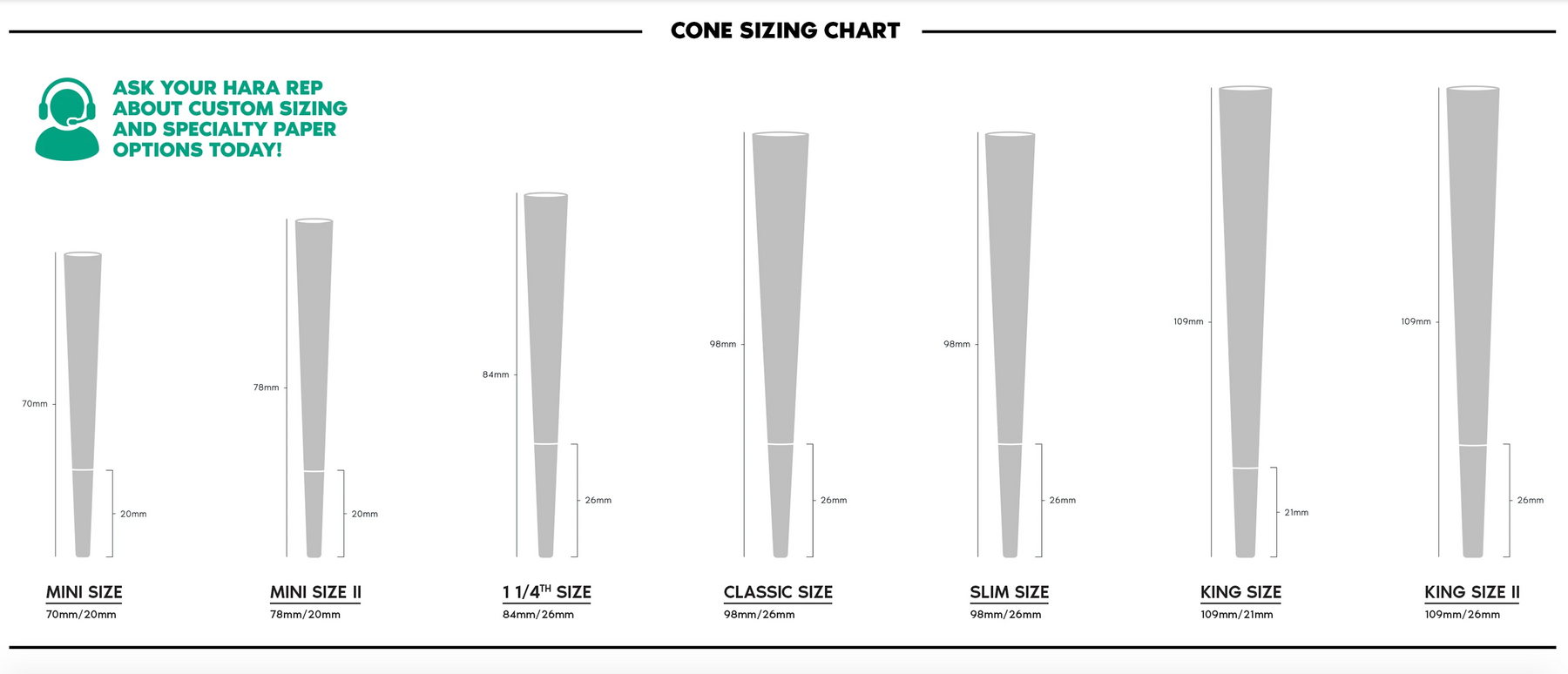 Cone Size Chart
If you enjoy smoking cannabis, but you don't relish the process of rolling your own joints, cones are an excellent alternative that reduces the hassle associated with rolling papers. Unlike traditional rolling papers, cones are pre-rolled. Cannabis users simply pack the cone with cannabis and twist or fold the cone's end together when it's full. 
Hara Supply is the leading producer of a range of high-quality cones for clients across the globe. Check out our Rolling Paper Size Chart. In many cases, cannabis users prefer cone manufacturers that prioritize organic or natural materials. If you want to reduce your exposure to harmful chemicals, be sure to purchase cones that don't use pesticides, inorganic materials, or other harmful toxins. 
Once you find a cone brand that you enjoy, you might be wondering: Are there different sizes? Yes – you'll find that we carry standard sizes like 109/98/84 with 26mm crutch, and also offer other custom sizes for you to choose from. Be sure to choose some Child Resistant packaging to keep your cones in.
To simplify the process of purchasing a cone in the size that you're looking for, we've developed a cone size chart to help you understand the various sizing terms in the cone industry. Check it out below:
Click here to customize your own pre-rolled cones!
Standard Cones
If you're searching for a basic cone that offers an ideal personal smoking size, then the 1¼ is a perfect choice. One of the most common and popular cone sizes on the market, it's 84mm long and has a 26mm tip. 
Classic Size 98mm Cones
If you're searching for something a bit larger than the 1¼, then it's time to consider the 98 Special. Smokers of the 98 Special get an extra 10 mm – it's 98mm long and has a 25mm tip. 
Kingsize Cones
The Kingsize is the standard large cone. It's 109mm long and has a 26mm tip. 
Get Custom Sizes For Your Cones
If you want a Kingsize cone but with a larger tip, then the perfect size for you is the 110mm length of the Kingsize cone, but with a tip is 40mm. The next step on the ladder would be a large cone that's 140mm long and has a 35mm tip. A step above that is a significantly larger cones than most people use. It's 180mm long with a 45mm tip! While we don't create these often, there is also the second largest size cone that's 280mm long with an 88mm tip, and the biggest of them all, also commonly referred to as the 'Challenge Cone' that an astounding 600mm long and boasts a 150mm tip. You might need a few friends to finish one of these off! 
Click here to customize your own pre-rolled cones!
Do Different Brands Have Different Sizes?
In some cases, brands use different names for their cone sizes. If you see a name that you don't recognize, search for the cone size measurements and compare it against the terms listed in our cone size chart – most cone companies will at least stick to similar measurements. 
Learn More: Pre-Roll Processing in the Cannabis Industry
Explore Our Cones at Hara Supply 
If you're searching for high-quality pre-rolled cones, there's no better place to purchase them than Hara Supply. Our Nevada-based cone company is firmly committed to industry-leading practices that prioritize smoking quality, health, and sustainability. 
Unlike other cone producers in the industry, we manufacture many cones including bio-organic GMP certified cones that don't contain pesticides, GMOs, and other harmful chemicals. Make sure to explore our full range of
custom pre-rolled cones
 and blank cones today!