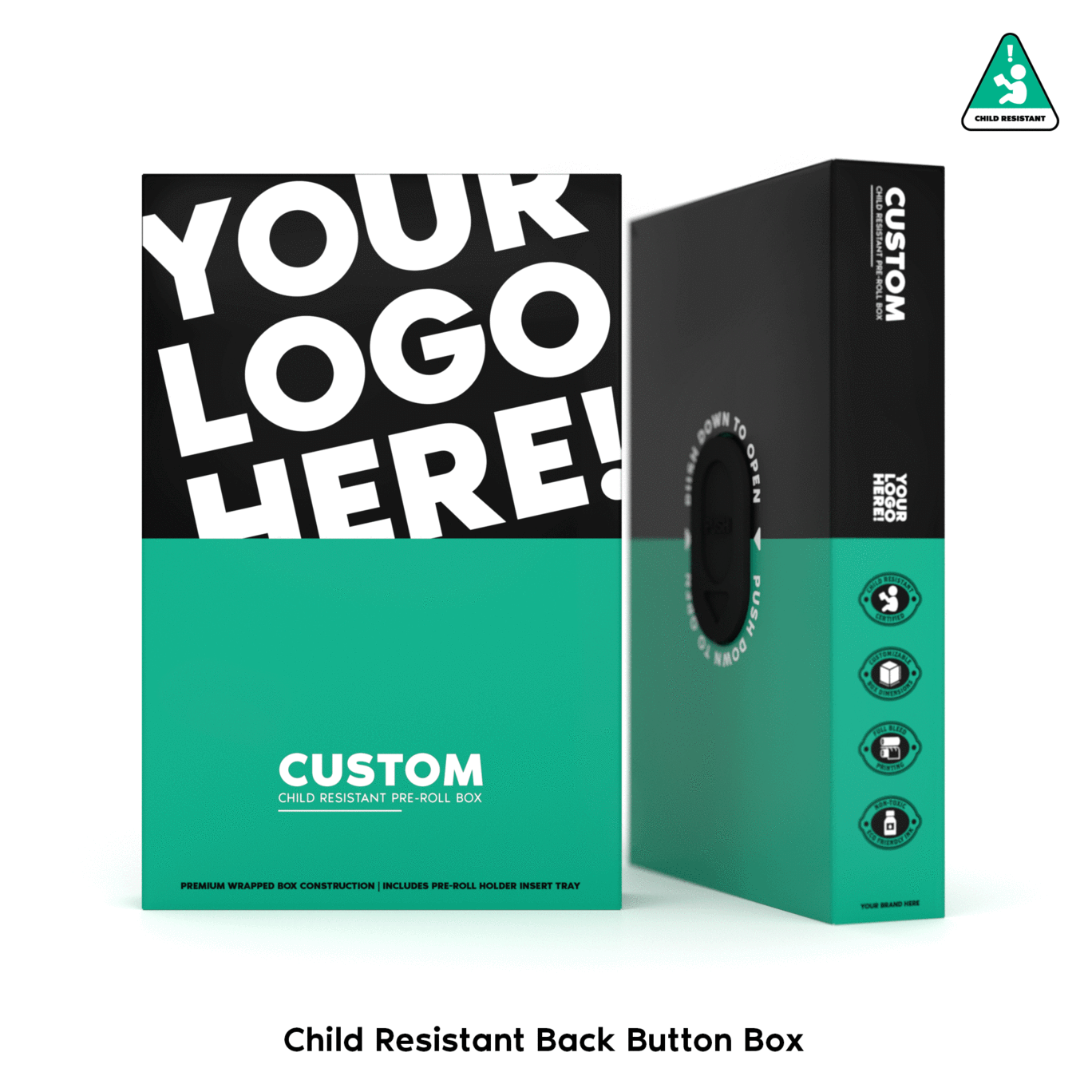 Difference between Non-CR and C-R Packaging?
What Is The Difference between Non-CR and C-R Packaging?
Proper packaging can play a big role in the success of a brand and business, especially in the highly competitive cannabis industry. Laws at the state and federal levels implement strict requirements regarding the packaging of many potentially dangerous items, such as tobacco, cannabis, household chemicals, and more. 
The difference between non-child-resistant and child-resistant packaging is fairly simple. Non-child-resistant packaging does not offer any child-resistant features. Child-resistant packaging has been tested and certified to deter young children from accessing the product.
A product requires C-R packaging if it is considered a danger to children. Non-CR packaging is used on items that do not pose a threat to kids. Read on to find out more details about the differences between non-CR and C-R packaging.
What is Non-CR Packaging?  
Non-CR packaging is any type of packaging not certified for defense against young children. Unless a packaging material has received C-R certification, it is considered non-CR and should not be assumed to offer any protective features. 
What is C-R Packaging?  
C-R packaging is any form of packaging that has undergone the C-R certification process mandated by the U.S. Consumer Safety Commission (CPSC). The CPSC was formed in 1972 under the Consumer Product Safety Act. 
The Poison Prevention Packaging Act (PPPA) was enacted in 1970 and provided the basis and guidelines for C-R packaging and certification. 
What Products Require C-R Certification Packaging?
A product requires C-R certification if it poses an inherent danger or toxicity to children. 
Many substances are considered a danger to children, such as tobacco, marijuana, alcohol, household cleaners, and many OTC medications such as:
Acetaminophen

Aspirin

Diphenhydramine

Ibuprofen

Drugs and dietary supplements containing iron

Imidazolines

Methyl Salicylate

Mouthwash

Naproxen
For C-R certification, the product packaging must undergo a scientific trial with a group of 50-200 children. The children are tested over multiple rounds to see if the packaging is accessible in less than five minutes. The children are even encouraged to use their teeth to gain access. 
Participating products must pass the testing parameters described in 16 CFR § 1700.20(a)(2)(iii) in order to be certified.
Check Out: What is CR Certified Packaging?
Further C-R Requirements in the Cannabis Industry
Cannabis is a new and growing industry that is not yet fully understood. For these reasons and more, cannabis packaging is held to some stricter requirements in addition to C-R Certification. 
Resealable
Most cannabis products are not single-use. For instance, a package of cannabis-infused gummies might contain ten doses, or a pre-roll tin may contain ten joints. Since these products will be accessed more than once, they must be resealed while they are not in use. This prevents unknowing children from stumbling upon the products.
Labeling
Cannabis products must include proper labeling and information, as mandated by each state. A common example of this requirement is pre-roll tube labeling. 
If a cannabis-infused edible is not labeled properly, someone may mistake it for regular, non-infused food. This protects both children and adults from unknowingly consuming an edible. 
Opacity
Most cannabis products are required to be packaged in opaque containers. This keeps cannabis products out of the eyes of children.
Unappealing to Children
A general rule for cannabis packaging is that it should not be appealing to children. If an edible is labeled with cartoons or fun flavors, a child might see it as candy and try to eat it. 
How is Non-CR Packaging Used in the Cannabis Industry?
Any cannabis-containing product must be packaged to ensure child resistance. However, retail and medical dispensaries often sell many other items, such as rolling papers, glassware, batteries, and other accessories. 
These non-cannabis items can be packaged using non-CR techniques. 
How is C-R Packaging Used in the Cannabis Industry? 
All cannabis products must be secured in C-R packaging upon leaving a licensed dispensary. Marijuana products come in many forms, including:
Flower

Vaporizers and Cartridges

Edibles

Pre-Rolls

Lotion and other Topicals

Concentrates
Check Out: Pre-Roll Packaging Options
The rule stays the same when dealing with any type of cannabis product – the packaging must be child-resistant. The different product types usually employ different styles of C-R packaging. 
Cannabis Flower
Cannabis flower is commonly packaged in plastic safety vials with a child-resistant lid, either in the "squeeze and pop" or the "push and twist" style. Mylar bags are another popular cannabis flower packaging material. The 
These flower packaging methods all offer a variety of sizes for use with any amount of cannabis.
Pre-rolls
Pre-rolls are a commonly purchased item and are offered in a variety of packaging types. Single pre-rolls are often sold in "doob tubes." These are plastic vials with child-resistant lids that come in a variety of sizes to fit different sized joints.
Multi-packs of pre-rolls are often sold in metal tins with hinged lids. While non-CR tins are produced, metal tins usually use push button locks to protect against children. 
Edibles 
Cannabis-infused edibles often have the strictest packaging guidelines because they are so easily mistaken by children as regular food. As there are many shapes and sizes of edibles, the packaging needs vary greatly. 
Edibles are often packaged in metal tins, boxes, mylar bags, and other C-R packaging. 
Exit Bag 
An extra layer of C-R packaging required in some states is the mylar "exit bag". When the customer places an order, the contents of the order are then sealed in the exit bag for transportation to the customer's home. This is a secondary form of protection against child tampering and is not required in all areas of the country. 
Learn More: New Age Pre-Roll Packaging
Wrapping Up
As you can see, the differences between child-resistant and non-CR packaging are clear. In the cannabis industry, any product that contains marijuana in any form must use C-R packaging. This includes cannabis flower, edibles, concentrates, topical, and more. 
Non-CR packaging can be used with products that do not contain cannabis, such as rolling papers, lighters, jars, and other accessories. 
These requirements help keep our children and communities safe, so always make sure to use trusted, high-quality packaging.